August Update - Tupperware, New Puppies and Peanut needs a Foster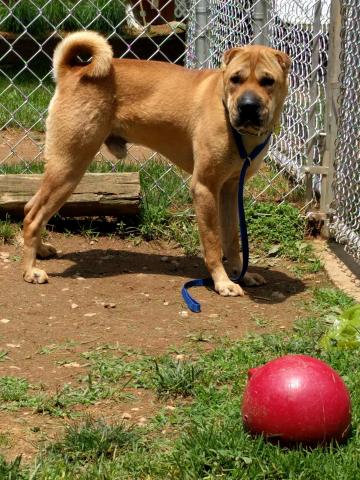 Peanut is the perfect apartment size guy, needs some TLC to help this scared guy come out of his fearful shell.  Peanut is in need of a foster. He has been at the kennel since January 2016.  Will you be his back to school surprise?  Come meet him at our event this Saturday at Unleashed, by PETCO in Olney, MD.
Tupperware Fundraiser
To gett amazing Tupperware while supporting MACSPRO, check out this fundraiser going on until August 27th.   All orders placed directly through the site are delivered directly to your home and MACSPRO will get 40% of all sales from the fundraising catalog. For more information, check out the event on Facebook.
Bonnie & Clyde are adorable 4-month-old puppies that need foster/forever homes and lots of TLC. Both came to us with ear & skin issues and are very scared right now.
Socialization, lots of love, and good food will help them along to bring their true personalities out. Both are in need of Fosters.  For more information about fostering, check out our website.
Congratulations to Clara, now known as Willow,  for finding her furever home.  Check out our website for more success stories that you may have missed.
Feel free to print out the attached "Our Gang" poster and share it with businesses that have local community boards.
On August 20th, MACSPRO will be at Unleashed, by PETCO in Olney, MD with Peanut.
On August 27th, MACSPRO will be at Pet Valu in Annapolis, MD.
On September 10th, MACSPRO will be at the Pet Adopt-A-Thon at Wilkins Automotive in Glen Burnie, MD.
On September 11th, MACSPRO will be at the Festival at Riva Shopping Center in Annapolis, MD.
On September 17th, MACSPRO will be at DogFest in Reistertown, MD.
On October 8th, MACSPRO will be at Howl-O-Wine at Sugarloaf Winery in Dickerson, MD.
On October 16th, MACSPRO will be at Paws in the Vineyard at Spyglass Ridge Winery in Sunbury, PA.
Call for Photos
Are you a foster, adopter or volunteer?  Do you have any photos of current or former MACSPRO pei?  Send them to us so we can use them in our email, newsletter and website.
Help us Save More Peibies
We are proud that 100% of all donations received are used to directly support our dogs and are used to provide food, shelter, transportation and veterinary care expenses.